Basic operation
The first time you launch the app, you'll see a pop-up asking for permission for your camera and microphone. Please allow the camera and microphone. You can video chat with the communication partner using the copied URL without creating an account. Before starting a video chat, share the start time and screen orientation (horizontal or portrait) using tools such as SNS and email. You can check the latest information by tapping the i icon displayed at the top of the screen.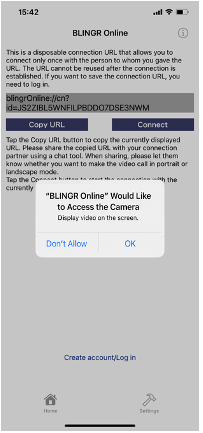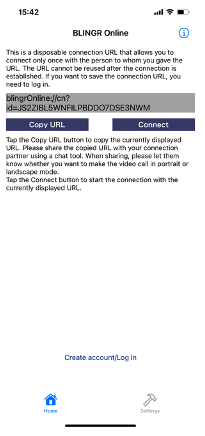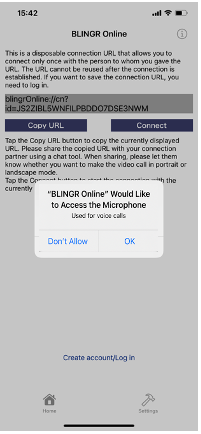 If the camera and microphone are not allowed, you will not be able to connect by tapping the connect icon. In this case, allow the camera and microphone for the app from the settings of the iPhone itself. When it's time to start a video chat, tap the connect icon to get the screen ready to start the connection. Before tapping the start icon, set the screen orientation (portrait or landscape) that was decided in advance with the communication partner. If the screen orientations of both screens are different, the live video after connection will not be displayed correctly. The screen example is for video chat in portrait orientation. The connection for video chat is completed when both parties tap the start button. At this time, you can check the live videos of both on the screen. At the connection stage, the live video of the communication partner and yourself is displayed on the screen in a superimposed state without being transparent.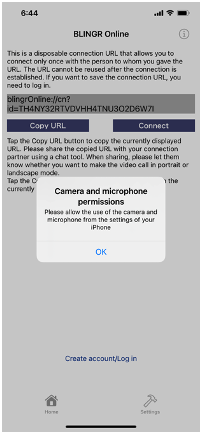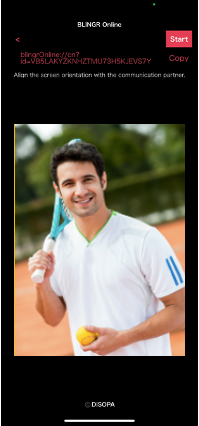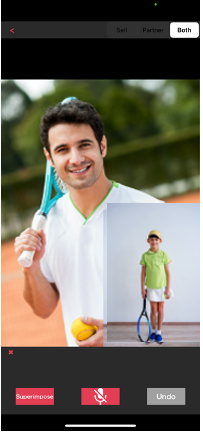 The microphone can be turned on and off by tapping the microphone icon. Tap the x button to display only live videos. Then, tap the screen to return the screen to the previous state. Tap the return button displayed in the upper left of the screen to display a pop-up instructing you to terminate the connection. You can terminate the connection by tapping the OK button.